M by Almayass - Restaurant Design
Status: In progress
Location: Abu Dhabi, Lisbon, Saudi Arabia
Client: Al Mayass, Miles Ltd
Almayass is a Lebanese Armenian restaurant and has franchisees in Kuwait, KSA, Abu Dhabi, Lebanon and New York.
In 2019, Almayass evolves from the original idea and creates a new concept: "M by Almayass", a contemporary style restaurant with a new wave of vegetarian food and gluten free items. Using a sensual and laid back design, I am recreating and developing the new brand identity, as well new aesthetics visions into a new spatial excperience.
A design based on a youthful and bright aesthetic is key with materials intended to create a graphic impact.

The key to the design is the synergy between contemporary trends and Armenian tradition.
Pomgrenates are a national Armenian symbol, so it will be emphasized through a modernized pomgrenate porcelain tile design, and an illustration for a wall unit I am drawing.

Materials such as concrete, porcelain, terazzo, as well as velvet will be used. A soft color palette that incorportates the logo colors will be used, in contrast with dark, red and oak tones in the old Al Mayass.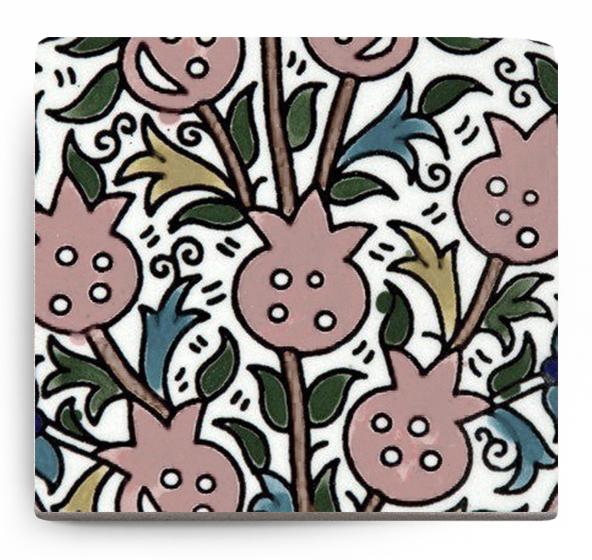 Tile design of pomegranates and leaves pattern that can be customized with different shades and colors
Illustration combining natual elements and pomegranates for wallpaper unit
Overall mood
Logo re-design : Modernizing the original Almayass logo


Futniture and tile picks and inspirations